RCCG SOD
RCCG SOD Year One. Know Yourself. Part Seven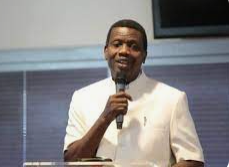 RCCG SOD Year One. Know Yourself. Part Seven
WHO IS A DISCIPLE ?
A Disciple is a disciplined Follower. Consequently, if there is no one to follow, then there will be no disciples. According to 1 Peter 2:21 , it talks about Jesus Christ giving us an example so that we can follow His footsteps. So a disciple of Jesus Christ is someone who FOLLOWS the footsteps of Jesus Christ regimentally. 
But the one to be followed has to be in the front. He must be ahead of the Followers. He has to be higher than them. He has to be better than them. He has to be superior to them. He has to be more advanced than them. As a matter of fact, He must be increasingly so. 
In other words, when you take a step nearer the one you are following, you will discover that he is a little further away than you think. In other words you cannot reach him unless he wait for you or until you become exactly like him. 

In Matt. 10: 24-25, Jesus Christ said: 
"a servant cannot be greater than his master. 
He said , it is enough for a servant to be like his master, not greater. And in 1 John 3:2, the Bible says the only way we are going to be like Jesus exactly, is at his appearing . We shall see Him when he appears then we shall be Like Him. Until then, we will be following. In other words you cannot be exactly like Jesus until His appearing and that is why the School of Disciples is a school from where people never graduate, because you will get better and better. So a disciple must hold up Jesus Christ in front of him constantly, pressing towards their goal. Remember , the Bible says in Hebrews 12:2: 
 "Looking unto Jesus the author and finisher of our faith"
You make Him your target towards which you must aspire everyday, pressing forward everyday as Paul said in Phillipians 3:12-1:4.
"I am forgetting the past, and I am pressing forward.
the cry of the disciples, the motto of the disciples, his words , which heralds every new day , something he says when he wakes up or when he has achieved a victory should be Excelsoir which means "I am going up still, I am getting better still". Like Jesus Christ said in John 14:12, which is our motto, "the work that I do, you will do also and greater works than these shall you do". You must be better still , purer still , more fruitful still. Like in John  15:2, as we bear fruits, the father will purge us that we may bear more fruits. We must keep on getting better and better , trying to become exactly like our Master, and this automatically call for some constant sacrifices . In Matt. 16:24; look at what Jesus said you must do, in order to be his followers.
"Then Jesus said to his disciples, if any man will come after me, let him deny himself, and take up his cross and follow me".
Now he said you must deny yourself . There are several implications here. First of all. self denial means you must be willing to fast, you must be willing to persecute the flesh according to Matthew 9:14-15 and also 1 Cor. 9:25-27. Peter said anyone who is running a race must be temperate in all things. In fact, he said:
"I keep my body under".
In other words , I keep on denying myself. I will not allow the flesh to take over. But then there is another implication, you must have what we call denial of self. In other words, you forget who you are , you make yourself of no reputation. You forget your past achievements and you empty yourself. That is what Paul said he did. He said all things that were gain to him , he set aside. He forget them, that he might win Christ, that he might know Him, that he might become like the leader he follows. 
And there is a second definition of a disciple, it means an imitator of a leader, and this once again opens two ways of becoming a dicsiple of Jesus Chriost; by imitating the Lord himself directly or by imitating the imitators of Christ. If you can imitate Jesus Christ directly, that is wonderful. Unfortunately, many a times we cannot see him. In fact many of us have never seen him before and how can we imitate what we have not seen? That is why Paul said in 1 Thess. 1:6: 
"And ye become followers of us and of the Lord, having received the word in much affliction with joy of the Holy Ghost".
You become followers of us. You are following those who are imitating Christ. You are imitating Christ. You are imitating the imitators of Christ. Why must we do so? Can we do so? It is easier to copy what you see than what you cannot see.
When God told Moses to build the Tabernacle in the book of Exodus 25, He showed him a picture of what the thing was to look like and when Moses finished , he compared what he has done with what he saw and the scripture say so. He said you are to follow those who are following Christ. He said so in 1 Cor. 4:16, and also in Phil. 4:9 , How are we to do it?
Hebrews 13:7,17 says: 
"Remember them which have rule over you, who have spoken unto you the word of God whose faith follow, considering the end of their conversation.
Follow their faith , follow those who are the leaders in the Lord and then in verse 17, he says:
"Obey them that have the rule over you and submit yourselves for they watch for your soul as they that must give account that they may do it with joy, and not with grief, for that is unprofitable for you".
As you follow your leaders, submit to them, listen to their instructions , obey them. They know better than you and they know what is coming. They know howto guide you. Concerning some of the things that you are passing through, they have already passed through them and they know how they overcame and will share that with you. However, we are not saying follow just any leader. the leader you will follow is the one that will lead you to heaven. Remember in 1 Cor. 11:1 Paul said clearly the condition that the leader must satisfy before you can follow him, he said,
"Be ye followers of me even as I also am of Christ"
When the leader is following Christ, without any doubt, you can follow him because he will finally lead you to Christ. If the leader deviates and he is no longer following Christ, please don't follow him anymore. Keep on following Christ.; 
Now I want you to talk to the Lord and say: 
"FATHER, NO MATTER THE METHOD YOU WANT TO USE, I JUST WANT TO BE YOUR DISCIPLE ALL THE DAYS OF MY LIFE. PLEASE HELP ME TO DO SO. 
Talk to him now and I am sure He will answer you. It is either by appointing for you a leader that you can follow so that you will never miss the road or He will use another method. But if you call on him, He will answer you. 
Call on Him now. 
Action Point
PS: If you would like to have an online course on any of the courses that you found on this blog, I will be glad to do that on an individual and corporate level, I will be very glad to do that because I have trained several individuals and groups and they are doing well in their various fields of endeavour. Some of those that I have trained include staff of Dangote Refinery, FCMB, Zenith Bank, and New Horizons Nigeria among others. Please come on Whatsapp and let's talk about your training. You can reach me on Whatsapp HERE. Please note that I will be using Microsoft Team to facilitate the training. 
I know you might agree with some of the points that I have raised in this article. You might not agree with some of the issues raised. Let me know your views about the topic discussed. We will appreciate it if you can drop your comment. Thanks in anticipation.
CRMNUGGETS is committed to fact-checking in a fair, transparent and non-partisan manner. Therefore, if you've found an error in any of our reports, be it factual, editorial, or an outdated post, please contact us to tell us about it.