RCCG SOD
RCCG SOD Year One. Know Your Enemy. Part Two.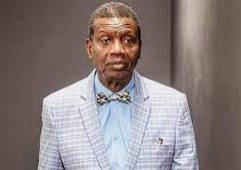 RCCG SOD Year One. Know Your Enemy. Part Two.
We have already discovered that our enemy is Satan and that he has certain character
He is wise. Worldy-wise. 

He is beautiful, perfectly so, and as a result, all that is beautiful is not necessarily holy or good. 

He dwells in stones of fire, which means that some of these so called lucky stones might not be lucky after all. 

He was formerly the choirmaster of God and so whenever you are praising God, you are pleasing God and that God will draw near to you. 
Now we want you to continue from there and look at other characteristics of this enemy. 
#5 The devil is greedy 
The greedy person is going to end up a killer, according t0 Proverbs 1:18-19. Anyone who is greedy will ultimately end up a killer because Satan himself is a killer and a robber too according to Job 10:10. 

"The thief cometh not, but to steal, and to kill and to destroy".
The Bible says that anyone who is greedy will not have a settled home because Satan will fellowship there constantly.
The Bible says in Proverbs 15:27 that when you are greedy you bring problems to your own h0me. 
Because Satan is greedy, when he finds someone who is greedy, he will fellowship with that fellow because birds of the same feather , flocks together. And whenever Satan fellowships , you can be sure there will be trouble there. 
The devil is violent: In Ezekiel 28:16: The Bible says Satan is violent and that brings us to one important point that THE ONLY LANGUAGE UNDERSTANDS IS THE LANGUAGE OF VIOLENCE. If you are begging him, he will keep on troubling you. If you are appealing to him , he will say "No, I like it where I am". But when you get violent violent with the devil, and say: " "I command you in the name of of Jesus, get out of here", then he will say "Ah take it easy. I will look for somewhere else". The Bible says in James 4:7; 
"Resist the devil, and he will flee from you".
And in 1 Peter 5:8-9: 
"Be sober, be vigilant; because your adversary, the devil, as a roaring lion, walketh about, seeking whom he may devour. Whom resist steadfast in the faith".
You are to resist the devil, and not just resist him but resist him steadfastly. There is only one language Satan understands , that is the language of violence. 
However, it it only the devil that we should be violent with. If you are the violent type, we mean if you are violent against other people rather than against Satan, then Satan will keep your company. Also, he will be wherever you are. 
The Bible says in Psalms 140:11; 
"Evil shall hunt the violent man to destroy him". 
If you are the violent type, Satan will be following you wherever you go, and of course the ultimate result will be destruction. Not only that , if you love violence, Satan will love you and God will hate you because the Bible tells us in Psalms 11:5 that: 
"The LORD trieth the righteous; but the wicked and him that loveth violence His soul hateth".
God hates those who are violent. There is only one violence which God will tolerate, and that is violence that is directed against Satan Himself. But for violence against other human beings, God hates such people. Of course, God must hate whosoever the devil loves. 
#7. The Devil is full of pride: The Bible tells us that Satan fell as a result of pride. His heart became lifted up because of his beauty, Because of his wisdom, he became swollen headed. And then he fell as a result of pride.
Anyone who is proud is a disciple or a son of Satan, because Satan was the first one to bring the sin of pride into the world. When you see someone who is arrogant and proud you can be sure straight away that he is a disciple of Satan.

Satan hates those who are humble and he doesn't fellowship with them, which is a very good news. If you a humble person, Satan is not going to come to your house to fellowship. I like this very much, because I dont want him in my house. Satan doesn't like humble people. He stays away from them. He look for those who are proud, those who are arrogant , then he wants to stay with them. 

Pride is a destroyer: Proverbs 15:25 says:  "The Lord will destroy the house of the proud." If God says he is going to destroy the house of someone, that fellow should be afraid, because there will be nothing left when God has finished his work. The Word of God which is forever settled says the Lord will destroy the House of the Proud. 
In Prov. 16:18, the Bible says: 
"Pride goes before destruction, and an haughty spirit before a fall" . 
When someone becomes proud, destruction is around the corner. Why is this ? Why would God destroy the house of the proud? Why is it that pride will go before before destruction? It is because God considers pride as an abomination. Since Satan himself is now an abomination to God. The reason Satan fell was because of pride and anyone who is proud is a disciple of Satan and should get ready for trouble. 
4. Pride is an abomination to God just as Satan is an abomination to God. Proverbs 16:5 says: 
"Every one that is proud in heart is an abomination to the Lord ; though hand join hand, he shall not be unpunished".
But beauty of it is this ; when you are humble, God loves you and He will begin to fellowship with you. You see wherever you cannot find the devil, you will meet God there. In a house where the devil will not come , God will come there and I want God to come to my house. I want Him to fellowship with me, I dont want Satan to come near me at all. That is why humility must be a watchword for the disciple. 
5. God loves the humble and He fellowships with them.
Isaiah 57:15 says: 
"For thus saith the High and lofty One that inhabiteth eternity, whose name is Holy; I dwell in the high and holy place, with him and that is of a contrite and humble spirit , and to revive the spirit of the humble, and to revive the heart of the contrite ones".
6. God enables the humble to put Satan to flight. 
James 4:6-7. 
"But he giveth more grace wherefore he saith, God resisteth the proud, but giveth grace unto the humble. Submit yourselves therefore to God. Resist the devil , and he will flee from you".
If you will submit yourself to God, the One who gives grace to the humble, He will give you the neccesary backing. Also, when you resist the devil, he will flee from you.
7. The humble makes speedy progress. When you humble yourself , your progress will be rapid whether in the spiritual or in the secular. Whenever you humble yourself, promotion will come. 
The Bible says in Matthew 23:12.
"And he that shall humble humble himself shall be exalted".
And in  James 4:10, the Bible says: 
"Humble yourself in the sight of the lord, and He shall lift you up".
Now, If God is the one lifting you up, even the sky is not your limit, because the Hands of the Almighty God are everlasting . When He picks you up and lift you up, you will just keep going. 1 Peter 5:6 Says: 
"Humble yourselves therefore under the mighty hand of God , that he may exalt you in due time" 
God has a time for the promotion of the humble and that time will never fail. 
The Bible tells us in Proverbs 22:4,
"By humility and the fear of the Lord are riches and honour and life".
Action Point
PS: If you would like to have an online course on any of the courses that you found on this blog, I will be glad to do that on an individual and corporate level, I will be very glad to do that because I have trained several individuals and groups and they are doing well in their various fields of endeavour. Some of those that I have trained include staff of Dangote Refinery, FCMB, Zenith Bank, and New Horizons Nigeria among others. Please come on Whatsapp and let's talk about your training. You can reach me on Whatsapp HERE. Please note that I will be using Microsoft Team to facilitate the training. 
I know you might agree with some of the points that I have raised in this article. You might not agree with some of the issues raised. Let me know your views about the topic discussed. We will appreciate it if you can drop your comment. Thanks in anticipation.
CRMNUGGETS is committed to fact-checking in a fair, transparent and non-partisan manner. Therefore, if you've found an error in any of our reports, be it factual, editorial, or an outdated post, please contact us to tell us about it.